Mike skippered Milagra's first voyage to the edge of Puget Sound today with the able assistance of Peter Abrahamsen, Amy Fleischer, and Sameer Rayachoti. Leaving Shilshole at 11:30, they sailed northward in light southerly winds. As the temperature rose and the winds died, they paddled up to Kingston where the heat drove them to take a swim. They then motored from Edmonds-Kingston ferry up to the south end of Whidbey Island. There they sighted a humpback whale twice and approached Useless Bay before tacking across towards the south end of Marrowstone Island. They motored a bit more and then sailed again as the winds shifted to northerly. They motored against the flood tide through the Port Townsend canal and finally tacked across the Bay to Point Hudson Marina in a 10-15 knot northwesterly.

Share your Adventures with SpotAdventures
Before departure, they rigged up a main halyard block (as there was a lot of friction in at the masthead from the shrouds and roughed up kevlar). They also finished installing the stainless steel struts and retaining straps for the dodger. Bravissimo!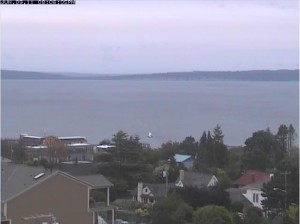 Tomorrow they sail to Lopez across the eastern Strait of Juan de Fuca. With luck they'll weather the passage and stay clear of Point Partridge and the massive lee shore presented by Whidbey Island… Bon voyage!