Mike, Liam, and I had mediocre winds on our recent return to Seattle from the San Juan Islands, but my-oh-my did the wildlife make up for it. In a 24-hour period (starting 5:30 am on Sunday 6/26/2011) we saw: bald eagles, great blue herons, kingfishers, southern resident killer whales, harbor porpoises, harbor seals, rhinoceros auklets, tufted puffins, pigeon guillemots, lunge-feeding and breaching minke whales (up to 5 at once), herring, swarms of sea gulls, a harbor seal <2 meters away (!), a northern red sea anemone, a sun star, river otters, a foraging humpback, and a leaping salmon!
Our lucky run of rare marine mammal sightings began when we met about 12 northbound southern resident orcas at Lime Kiln lighthouse and Deadman's Bay. They were very close to shore (10-100m) traveling north in groups of 2-5 spread out over about a kilometer. The blows backlit by the early morning sun were mystical against the shattered basaltic coastline. We didn't hear any vocalizations and there were no automated detections made that morning on the Lime Kiln (or Orcasound) hydrophones, but the sounds of the blows were clear and powerful and added majesty to a very peaceful passage down Haro Strait.
About the time Liam started asking "When are we going to get there?" we were treated to a rorqual reunion in the middle of the eastern Strait of Juan de Fuca. In a few square kilometers centered over Eastern Bank (between Hein Bank, Smith Island, and Partridge Bank), there were at least 5 and probably more than 12 minke whales foraging on aggregations of forage fish. The fish were 10-15 cm long silver-grey elongated fish — probably herring — that formed tight schools or balls. One ball was chased directly under our boat by a languishing (full?) harbor seal so we were able to see it was 1-3 meters deep and 1-5 meters across, densely packed with slowly swirling fish. Sea birds were flying everywhere (almost always <10 meters above sea level) and flocking at the waters surface in groups about 10 meters in diameter, typically spaced 500-1000 meters apart. Does anyone know if this is a particularly great year for herring? I'd never before seen such large aggregations during Beam Reach programs (in the fall or spring) or in a decade of recreational sailing around the San Juans and Puget Sound.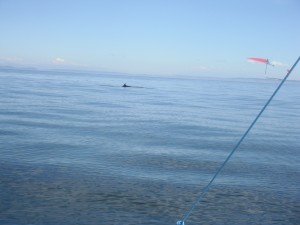 The minkes were remarkably adept at heading strait towards the next aggregation of birds, lunging through it for a few minutes, and then traveling in a pretty straight line towards the next aggregation. We wondered: how they knew which direction to swim next? They often seemed to be working together, lunging or breaching through schools in groups of 2-3 whales. Many lunges were horizontal with heads out of the water, while a few seemed more vertical and looked like a killer whale spy hop.
Almost as amazing as the feasting minkes was our nighttime observations of a foraging humpback just south of where Admiralty Inlet meets Hood Canal. This is the furthest into Puget Sound that I've seen a humpback. At least one individual was feasting on aggregations of a small silver fish (more herring, we assume) earlier that (yesterday) morning from about 2-4 a.m. when Mike, Liam, and I sailed very slowly through Skunk Bay (Foulweather Bluff to Hansville). It was overcast with occasional rain showers with 0-10 knots of N/NW wind while a weak flood transitioned towards a strong ebb at Point-No-Point. Liam counted 38 blows in an hour of listening to the near-constant sizzling (snap-crackle-pop) sound of leaping forage fish. We were able to see some of the closer surfacings in the pale light from Seattle reflecting off the low clouds and calm waters and it was clear this was an adult humpback taking 3-5 breaths before making a 3-6 minute dive.
Actually, the light-wind sailing with our big polytarp crab claw sail was pretty interesting, too. Mike served up Nutella French toast as we jibed and reached slowly down Puget Sound toward Seattle, greatly appreciating the 2-3 knot push from the ebb tide that kicked in late in the morning. Mike chose a good clear night for Liam's first night sail and Liam surprised me by waking easily, watching and listening carefully for the humpback, and doing a good job as a night helmsman when Mike or I needed a quick break.