Last fall I finally attended my first Wooden Boat Festival in Port Townsend (WA).  It was a real treat to be there — in part because it was a chance to finally talk leisurely to some of the other mariners that participated in the 2015 Race to Alaska (aka R2AK), and in part because there were lots of inspiring ideas for small boat sailors, builders, and designers.
I particularly enjoyed meeting Dillon Majoros and pondering the genius ideas he put into his proa.  It was a pleasure to spend more time with Quill of Team Barefoot Wooden Boats, as well as the Boatyard Boys, Thomas, Matt, and more.
Below are a bunch of photos I took there with captions that explain where I found inspiration.
Skin-on-frame proa "Palindrome" by Dillon Majoros
Dillon just managed to get this beautiful, innovative, scrappy boat built for the 2015 R2AK.  He finished it en route to the starting line in a bus he'd converted to a rolling workshop and transport vehicle!  Unfortunately his crew bailed on him and he was forced to solo cruise Desolation Sound in the summer of 2015 instead of competing in the Race.  Happily, he reported that it performed great as a cruising boat — which I think bodes well for it's future in a Race to Alaska…
You can learn more about the boat via this post at Proafile.  I wish I'd gotten a photo of the open crab claw, in particular it's ingenious running rigging of the brailing lines (which used at least 2:1 purchase, I think, to greatly reduce the amount of line at the cleat, thereby reducing the management of all that line…)
Yuloh on Matt Layden's "Paradox"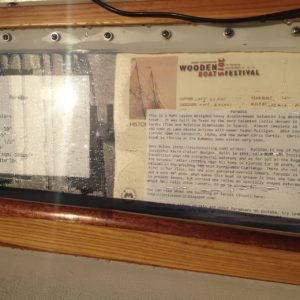 Outrigger Junior from Chesapeake Lightcraft
Have admired this proa from the plans and test-sail blog post…
A novel pedal boat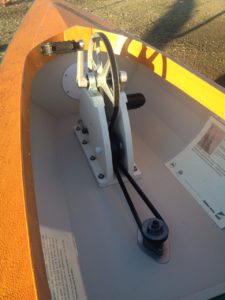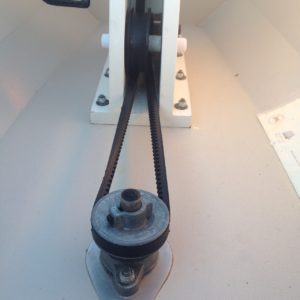 Lots more inspiration and pure beauty
SUPs (shopping for Tim King)