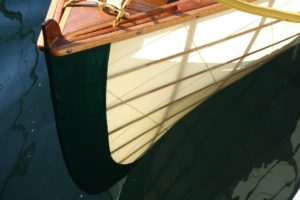 Here are photos and related thoughts from the 2016 Wooden Boat Festival.  I enjoyed getting up to Port Townsend via mostly-public, very-cheap transport for the first time (via ReachNow-ferry-Shuttle) with Matt Johnson (though Nate Rooks was kind to offer a car ride in an earlier transit scenario).  On the way back it was a treat to sail on Tsunamichaser with Captain Thomas, as well as Matt and Tim Yeadon.  We had a blast using the Seascape 18's code zero on a Wharram cat in the WBF final "sail by."  Perhaps we shook things up a bit with that mix of polynesian boat and Euro-sails, but mostly we had a hoot with Thomas transformed by the R2AK from a casual cruiser to a mad-sail-swapping-race-fiend.
One thing we didn't know about at the WBF is that there is a human-powered boat race.   Matt and I were told about it by Steve Chapin (a master builder of Pocock cedar rowing shells).  Registration was at 8 a.m. and the race started at 10 a.m. on Saturday.  There is a short and a long course.  We'll be there as competitors next year!  Though it's labeled "Rowing Race" in the 2016 schedule, the description clarifies that any human-powered watercraft is welcome:
Open to all human-powered watercraft – Â Wherries, Dorys, Rowing shells, Kayaks, Longboats, paddle boards, outriggers, Dinghies and Gigs.
Registration was at 8 a.m. and the race started at 10 a.m. on Saturday.  There is a short and a long course.  We'll be there as competitors next year!
A stunning dacron skin-on-frame boat
Iain Oughtred designs
Matt noticed that I was admiring aspects of multiple boats — and that they were all designed by Iain Oughtred (about whom I'd not heard previously). Â The gent lives way up in northwest Scotland and certainly has an ethic of elegant simplicity which resonates with me.
Plans and news from an Aussie distributor/site
Plans and books from a UK distributor 
Books from Amazon
Propeller and pedal drive innovation from the UW Human-powered Submarine Group
Bentley and the UW team gave a couple presentations at the Festival. Â I attended most of one and took these notes and photos.
ANSYSÂ Computational Fluid Dynamics modeling software used to guide hull form
Fewer blades = more efficient
Avoid bubbles! Â (Exhaust from SCUBA tanks caused propeller inefficiencies in previous years…)
Long & thin propeller blades are good, but material & safety limited
Controllable pitch propeller blades
400 rpm constant, resistance tuned by
Openprop modeling software from MIT guided propeller design
Top speeds 5.5/6.1 knots by UW pilots fe/male
Canoe carving and chisel sharpening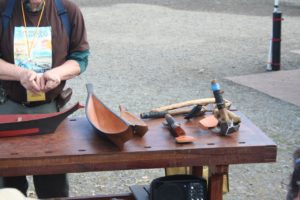 Maybe same role as bow bulge in
angyaak
 ?
Head canoes had longer waterline and less turning ability
Less ability to turn may have caused transition to non-head canoe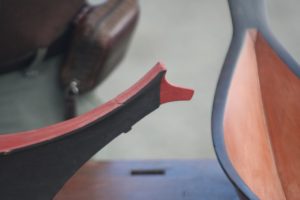 T T waterman wrote about Makah canoes, 1922
Steve brown lived in Neah Bay; made 4 canoes in museum with young Makahs
5-6′ wide, length =~3-5x max beam
Water+chalk mixture is used to match bow & stern pieces to hull to make watertight join
Bottom only ~1.5″ thick even on 50′ canoe
N of Vancouver different style: smaller maybe due to spruce rather than cedar up north (eg near Rangall) cane on scene approx 1800; Skagway museum?  Rangall museum has Good example but made from cedar…  Has bow reminiscent of sperm whale head and "long tail."
General good ideas, beautiful boats, fun people
Tardis, a Matt Laydon Paradox
Mar Azul
Thomas and I liked the practical-yet-beautiful balance struck in Mar Azul out of Bandon, OR. Â We didn't have a chance to talk to the owners, but supposed they were productive welders!
Richard Woods trimaran
Angus Rowcruiser (R2AK)
After pondering ama-iako connections with Matt, I took a few close-up photos of the beams on Colin's boat so we can emulate or improve upon the design.
Race to Alaska blazer party
It was wonderful to hear about the new prize that will be offered in the 2017 R2AK. Â Each arriving boat will have 5 minutes from when they ring the bell to decide if they'd like to sell their boat to the race organizers. Â If they say no, then the next arrival gets the same opportunity. Â I think it's a brilliant way to incentivize the "little boats" to keep on going — both persevering during the race and continuing to innovate in the design, building, and racing of economical, human- and sail-powered boats.
After all, as the Waterlust folks shared recently – "The big boats get the glory, but the small boats make the sailor." (quote from Peter Montgomery)  Now one of the small boats may get some additional glory as well!
https://www.youtube.com/watch?v=HSPUl4Wys5s
Miscellanea: